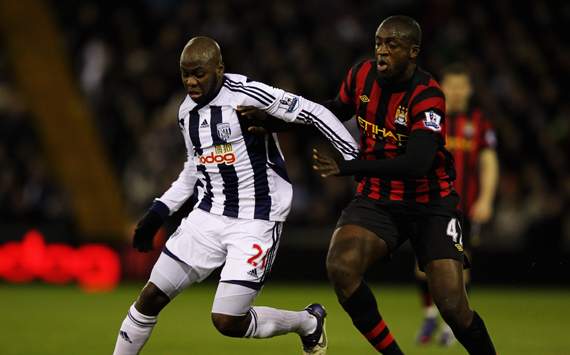 Manchester City were unable to score in a Premier League game for the first time this season as West Bromwich Albion held the leaders to a goalless draw.
The first-half saw David Silva miss a chance that could very well have been the winner, while Shane Long could not convert a second-half header that would have seen his side close in on a famous victory.
The pattern of the game was evident within the first 10 minutes, as it was Mancini's men who were on the attack while the Baggies defended deep. In one such instance, a cross from Gael Clichy found Milner unmarked, but the midfielder headed wide of the target.
The first genuine effort on goal came after 17 minutes, when Paul Scharner's right-footed shot produced a save from Hart. From the resulting corner, a series of blocked shots followed by another corner. But the score line eventually remained goalless as the set play did not trouble the defence.
Ten minutes into the second half Balotelli appeared to be sending in a cross, but decided to go for glory instead. His curling shot caught goalkeeper Ben Foster off his line and almost caused a sensational goal, but the crossbar saved West Brom from trailing.
At the other end, an overhit cross saw Vincent Kompany taking no chances, heading the ball away to safety. But an error from Toure meant eventually saw Thomas sending in a superb cross that Long should have converted. But the forward's header somhow managed to miss the target, despite the former Reading man having more than enough space at the back post.
A little past the hour mark, Milner headed a cross into the box for Aguero to do the damage, but a vital tackle from Gareth McAuley saved the day with a superb challenge for the hosts as Nicky Shorey might have been left feeling he should have been quicker, which would have avoided putting his team in a desperate position in defence.
The visitors had scored in every Premier League game prior to this one, and gave it everything they had during the final few minutes to ensure that the game would not end goalless. But the Baggies defended well and managed to stave off the attacks and ensure that the league leaders dropped a point at the Hawthorns, and add their name to a list of three other clubs - Fulham, Liverpool and Chelsea - who have prevented City from taking three points this season.
City and Manchester United are now level on points, with Mancini's men retaining the top spot in the Premier League by virtue of a superior goal difference.